ZETSCHE, Eduard
(Wien 1844- 1927)
WATER COLOR FLOWER MOTIVE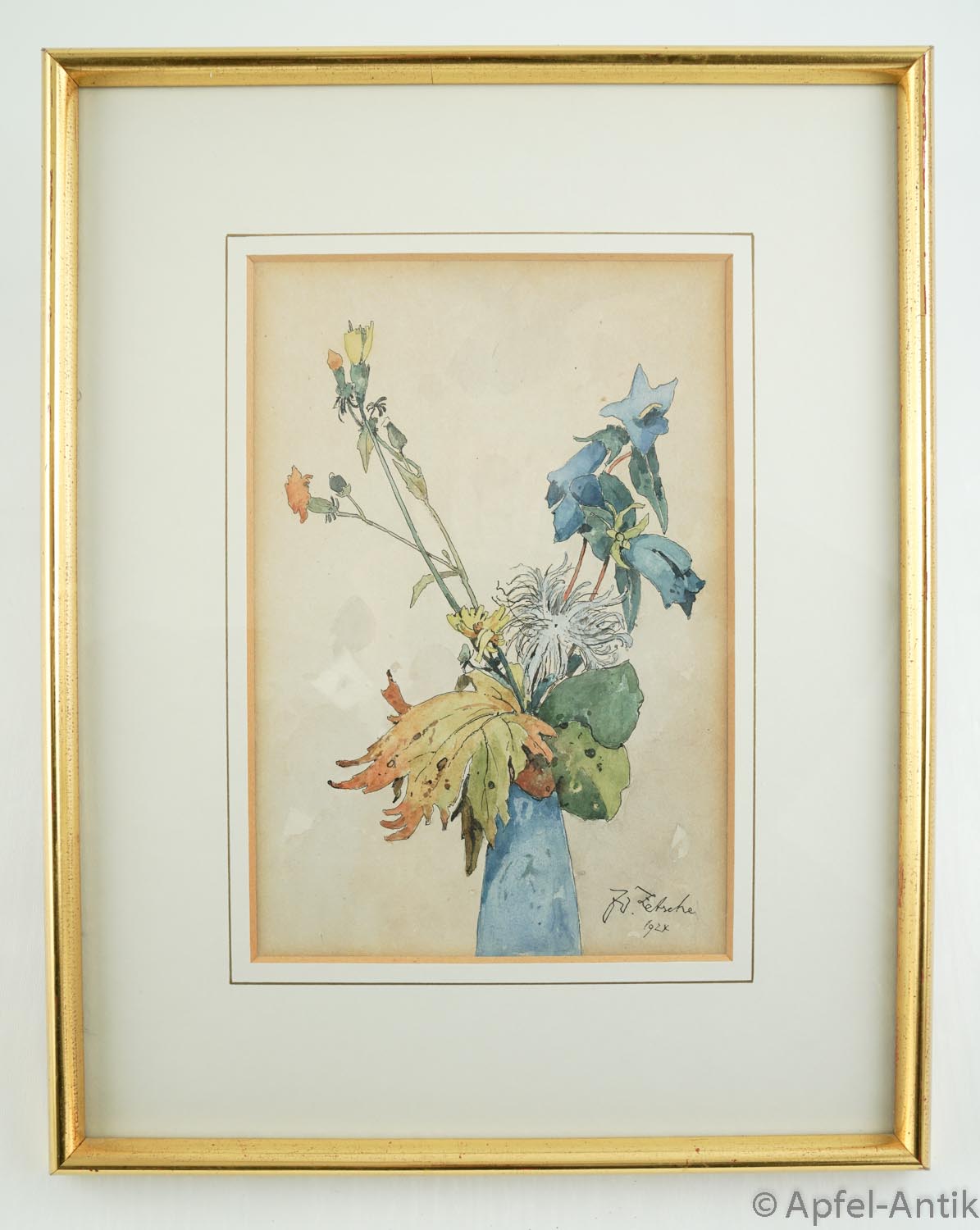 DESCRIPTION:
Water color on paper

Signed bottom right E. Zetsche 1924

Measurements: 16 x 23 cm

Frame measurements: 30 x 37 cm

The Painting and the frame are in excellent conditions

E.Zetsche is found in the Austrian art lexicon ''Fuchs''
BEAUTIFUL, TENDY FLOWER MOTIF, BELL FLOWERS AND CHRYSANTHEMUMS IN A BLUE VASE.
Eduard Zetsche
(Vienna 1844 - 1927)
Eduard Zetsche was born in 1844 in Vienna. In addition to his job as a bank clerk, he took painting lessons with Robert Russ and Emil Jakob Schindler. After becoming unemployed in 1873 due to the great stock market crash, he decided to devote himself entirely to painting and studied from 1874 at the Vienna Academy under Eduard Peithner Lichtenfels.
The artist was mainly concerned with landscape, architectural and flower painting. For his studies he went to the surroundings of Vienna and the Wachau, where he his favorite motifs - old walls, angle, streets, gardens, streams - found. He visited several times each year the Wachau, always accompanied by his sister Fanny, who was his longtime companion and support. His pictures, mostly watercolors, could be admired at the exhibitions of Aquarellistenklubs the Vienna Künstlerhaus. Eduard Zetsche died at the age of 83 years in Vienna.
ALL OUR ARTWORKS ARE AVAILABLE IN OUR SHOP.
APFEL-ANTIK
NEUBAUGASSE 31 (IM INNENHOF)
1070 WIEN
FEEL FREE TO CONTACT US FOR QUESTIONS AND INQUIRIES.