BERGMANN, Franz Xaver
(Wien 1861 - 1936)
BRONZE BUDGERIGARS around 1900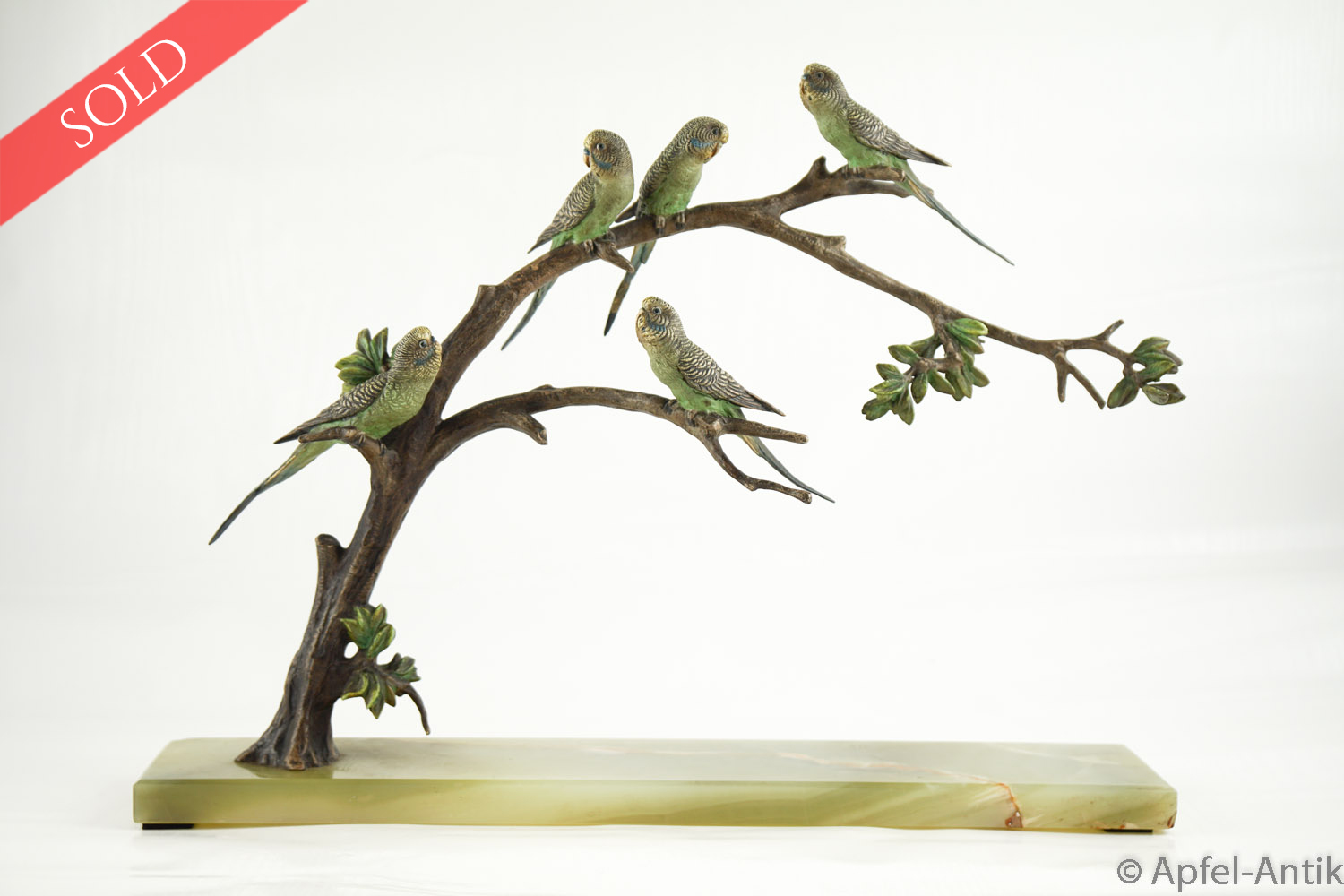 DESCRIPTION:
Material: Bronze

Height: 36 cm

Width: 38 cm

Signed Bergmann, Jar- symbol (see pictures)
WE GUARANTEE FOR AN OLD ORIGINAL BRONZE FIGURE AROUND 1900, NO REPRODUCTION
COLD PAINTED BERGMANN BRONZE OF EXCEPTIONAL SIZE. DISPLAY OF FIVE BUDGERIGARS SITTING ON A BRANCH WITH ONYX SOCKET. LITTLE DAMAGE ON SOCKET SEE PICTURES.
Franz Xaver Bergmann
(Vienna 1861-1936)
was the owner of a Viennese foundry who produced numerous patinated and cold-painted bronze Oriental, erotic and animal figures, the latter often humanized or whimsical, humorous objects d'art. Noted for his detailed and colorful work, and signing either a 'B' in an urn-shaped cartouche or 'NamGreb' - 'Bergman' in reverse. These marks were used to disguise his identity on erotic works.
His father Franz Bergmann was a professional chaser from Gablonz/Bohemia who came to Vienna and founded a small bronze factory in 1860. His son Franz Xaver Bergmann(1861 – 1936) inherited the company and opened a new foundry in 1900. Many of the bronzes from the 1900s were still based on designs from his fathers workshop.
He was not asculptor himself as often described wrongfully. There were many anonymous sculptors, hired temporarily by the workshops. At the turn of the 19th/20thCentury there were about fifty workshops producing Vienna Bronzes.
'Coldpainted bronze' refers to pieces cast in Vienna and thendecorated in several layers with so called dust paint; the know-how for the mix of this kind of paint has been lost. The color was not fired hence "coldpainted". The painting was carried out mainly by women working at home, atypical cottage industry.
Sensuousposes of young women in the Art Nouveau style were disguised by acovering that revealed all when a button was pushed or a lever moved. Often carefully sculpted animals, such as bears, could be opened to reveal an erotic figure inside.
ALL OUR ARTWORKS ARE AVAILABLE IN OUR SHOP.
APFEL-ANTIK
NEUBAUGASSE 31 (IM INNENHOF)
1070 WIEN
FEEL FREE TO CONTACT US FOR QUESTIONS AND INQUIRIES.